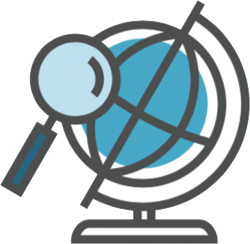 Description
As a member of the EPIC-Network, you are a part of an internationally recognized network of universities and communities working to build a sustainable future. As such, your membership within this network gives you global prestige and recognition that you can use in your outreach and marketing materials.
Furthermore, EPIC-N celebrates members' EPIC-N Program, Partnership, and Project Stories on our website, and in many other ways, bringing more attention, recognition, and marketing to our members.
Examples
EPIC-N members are given global prestige and marketing by:
Creating a program story for the EPIC-N public site – See example here.
Displaying the EPIC-N logo on their program's site – See example here.
Presenting at EPIC-N webinars and affiliate events – Respond to appeals like this one as they are shared.
How to Access
Create your EPIC-N Program Story:
Sign into the Member Commons 
Go to the "Courses" tab
Click on the "Updating Your EPIC-N Program Information" course
Under "Course Content", click on the third lesson titled "Program Profile- Program Stories"
Click on "EPIC-N Program Case Story Creation"
Fill out the information requested
When finished, press "finish quiz"
EPIC-N staff will draft your program story and send it back to you for approval before publishing it to the public site.
Place the EPIC-N logo on your program's site:
Go to the "EPIC-N website"
Sign into the "Member Commons"
Click on "Toolbox"
Follow the EPIC-N Toolbox Google drive link
Click on "Resources for Member Programs"
Go to the "Identifying Program as EPIC-N Program Resources" folder
Download the "EPIC-N logo files" zip drive
Testimonials
"We all have resources, and there are many resources that exist within this community and within the networks of our partners. It's about leveraging those networks and those opportunities in new ways. That's how we'll get the work done."
–  Jane Rogan, Director, Sustaining Hoosier Communities Director, Indiana University Bloomington
Feedback
EPIC-N is committed to continuous improvement and providing quality resources to our members. If you have recently used this benefit of EPIC-N membership, please complete this quick form.