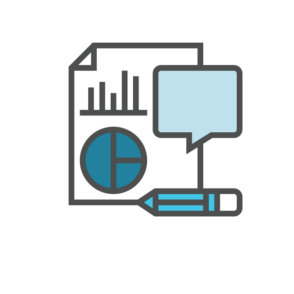 Description
EPIC-N's Project Library is a constantly expanding resource of thousands of individual projects completed during partnerships initiated by EPIC-Network members. These projects entries offer summaries, metrics, reports, and more. Members can search, filter, and sort through projects by university, United Nation Sustainable Development Goal, community partner, university department, and others will be added soon.
Examples
There are a number of instances when EPIC-N members can use the Project Library to their advantage. For example a program leader can:
Explore the Project Library to find ideas for future projects or to provide examples of what is possible to interested faculty and/or local government/community partners.
Store their projects for future presentations and use.
Connect with other program leaders who have completed similar projects to theirs.
See how other programs report and record their project information.
Gain recognition and visibility for the incredible work their program and its stakeholders have completed.
How to Access
To access the EPIC-N Project Library:
Go to the EPIC-N website: https://www.epicn.org/

Click on "Member Commons" at the top right of the screen

Read Member Details page

Use the options available to "Log In" or create an account by clicking on "Become a Member"

Once logged in, click on the "Project Library" tab
To filter through the Project Library by university, community partner, SDG's, and more, utilize the tabs under the Project Library title
To search using keywords click on the "Search All Projects"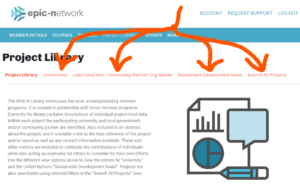 Testimonials
"If cities are measuring their success, they are able to tell their story. And if you have a bunch of EPIC-N cities that are measuring their success, now EPIC-N can tell that story of the model. That makes it easier for us to learn from each other."
– Andrea Fox, Town Manager
Feedback
EPIC-N is committed to continuous improvement and providing quality resources to our members. If you have recently used this benefit of EPIC-N membership, please complete this quick form.